King of Nations Rd6 & King of Asia Final -
Kuala Lumpur, Malaysia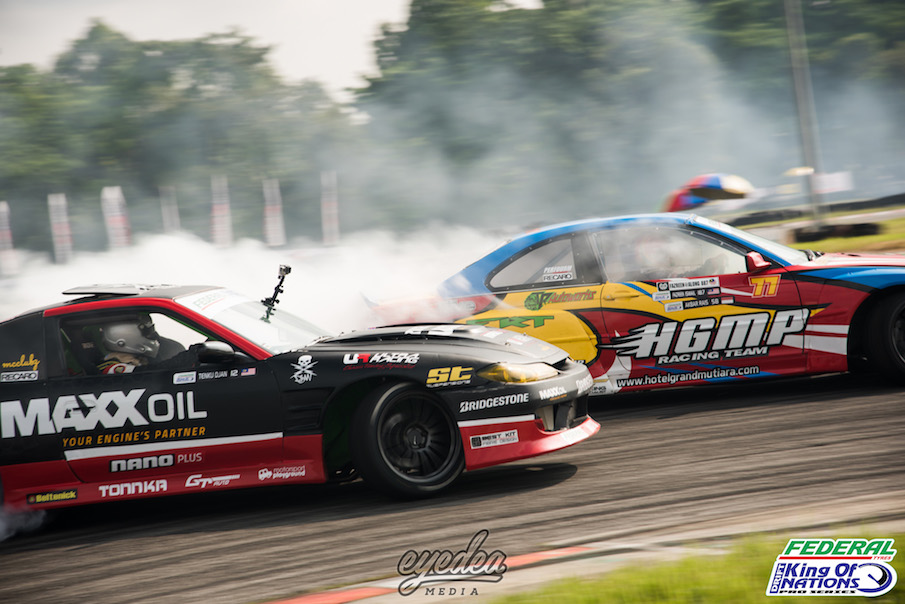 After several back-to-back rounds across Europe, it was time to continue the Federal Tyres King of Nations series as drivers headed from as far as South America, Australia and the Middle East to compete against some of the best drivers that Asia has to offer at the Elite Speedway CIrcuit in Kuala Lumpur, Malaysia.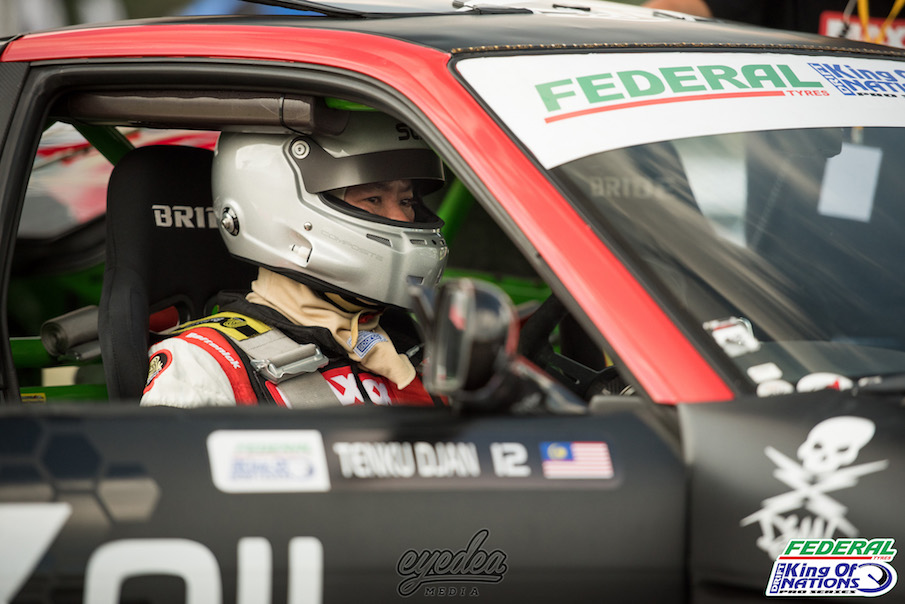 Entering with a brand new team, it would mark the series debut for Malaysian legend Tengu Djan returning after a 4-year hiatus from drifting alongside his new teammate from Hong Kong, also competing in King of Nations and Asia for the first time, Charles NG.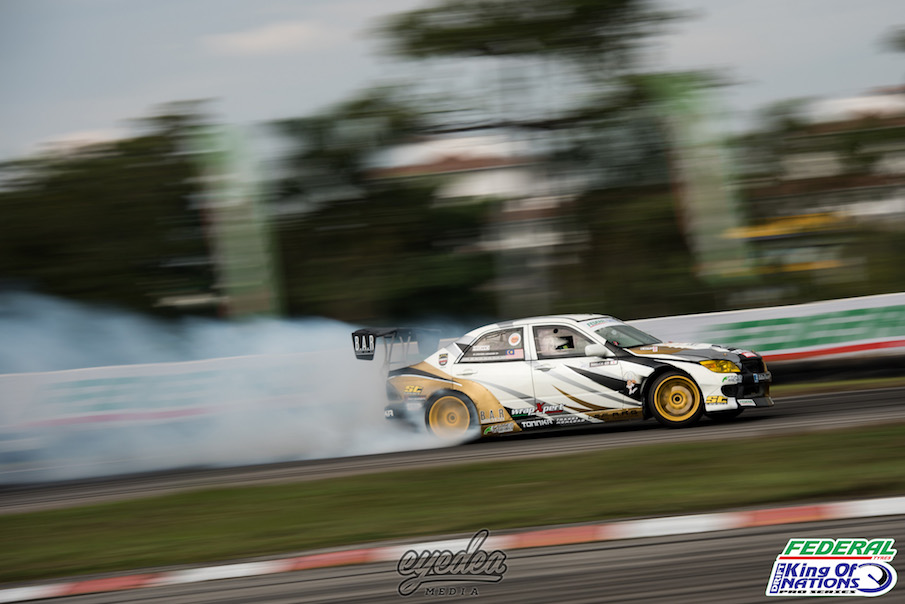 Competing alongside them would be a long list of Japanese legends including Jin Horino and Atsushi Taniguchi who add to the growing list of full-season drivers - Hirohide Tanaka, Toni Arakaki and Keiichi Kadekaru.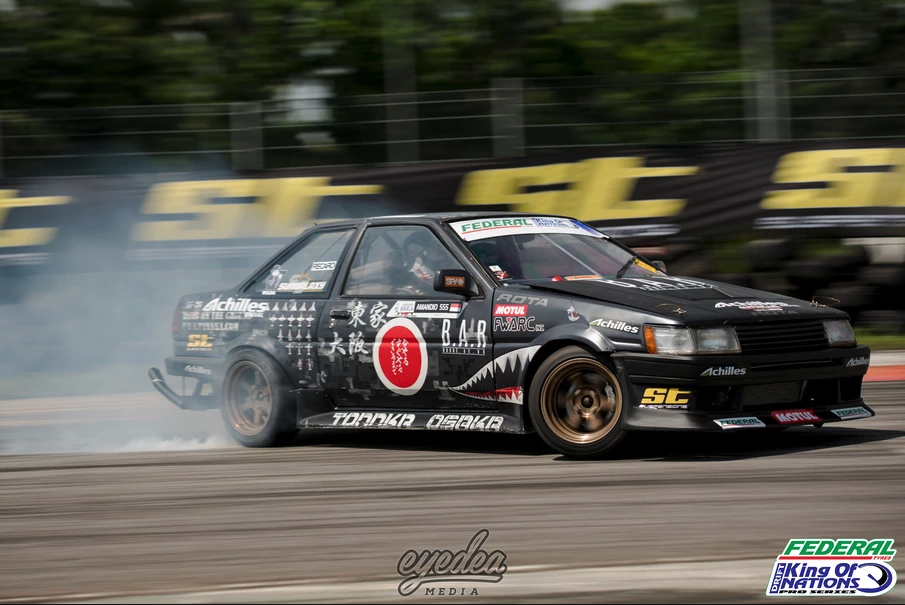 Also marking his return to the series after an impressive 2016 campaign would be Indonesian driver Emanuel Amandio as well as an impressive list of Thai competitors.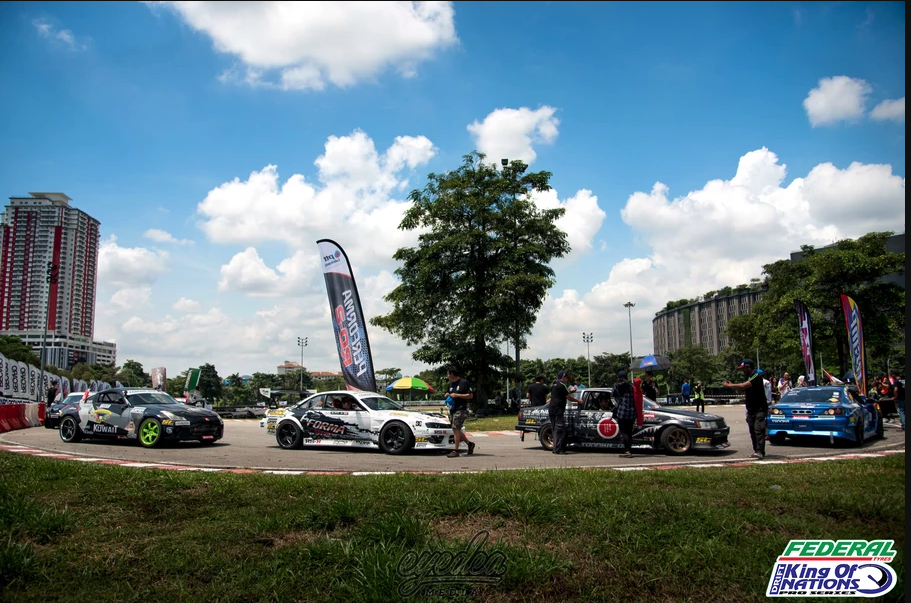 It would be a lot to ask for that the weather would remain dry throughout the practice and qualifying on the Saturday during rain season, but the scorching sun baked the track throughout the day, allowing drivers to use the much needed grip to adapt to the difficult layout.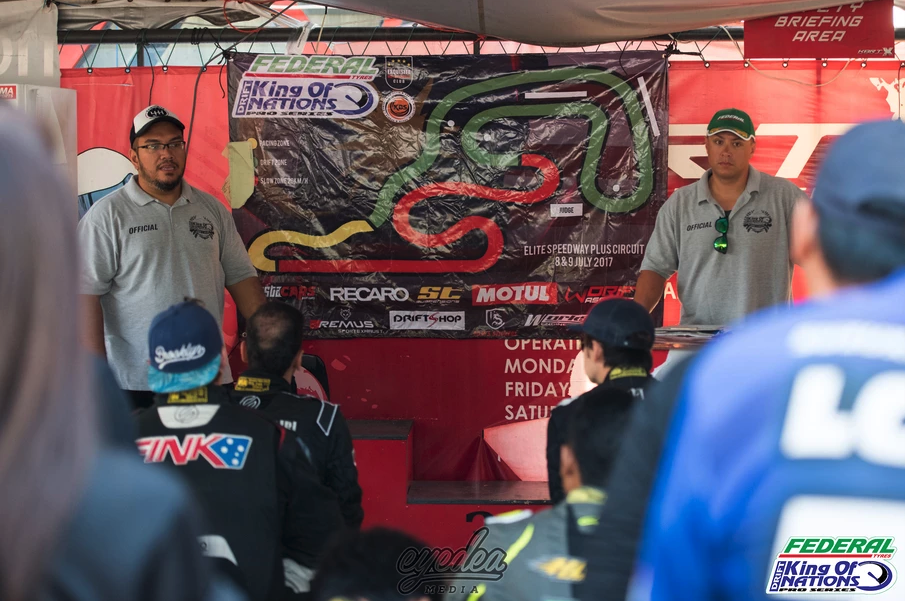 With judges Vernon Zwaneveld and Zai 'Bullzai' Hamdan expecting to see the best from the drivers as they pushed their cars to the limit, the afternoon's qualification session certainly didn't disappoint. With double points on offer in the King of Asia Final throughout the weekend, every position was more valuable than ever.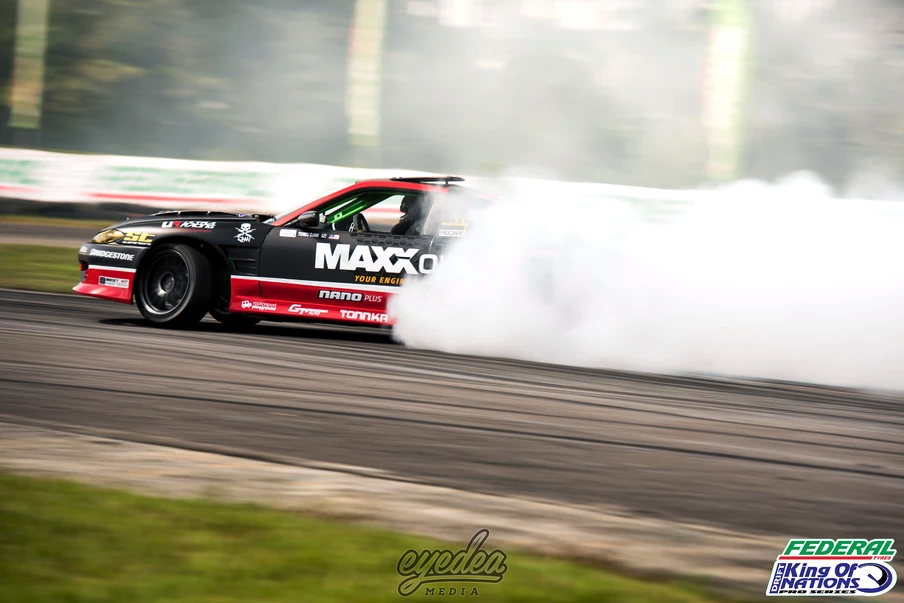 It would be the perfect start to his new campaign as 'Prince of Drift' Tengku Djan laid down a stunning lap, clocking himself 96.00 points from the judges as he smoked out the Malaysian circuit.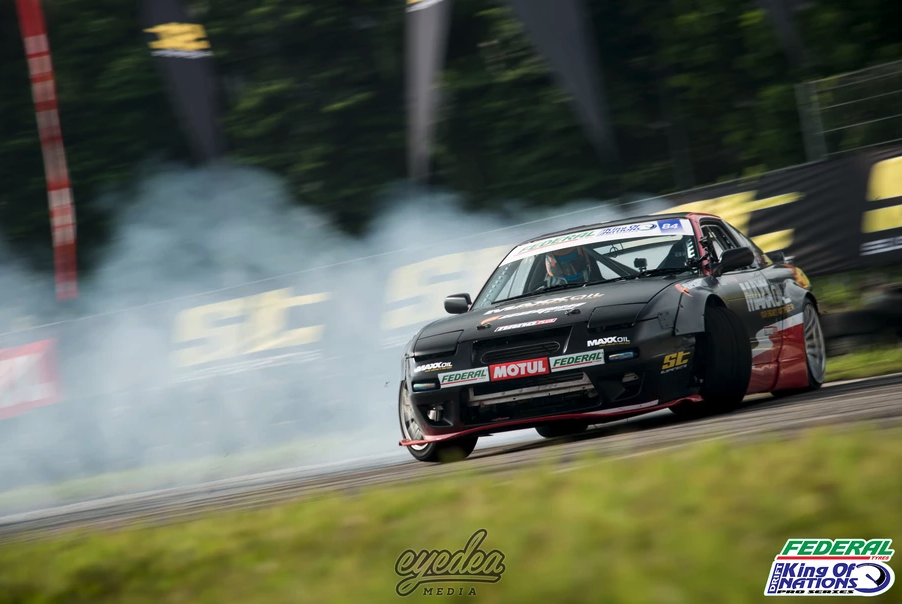 His new team-mate Charles NG would follow shortly behind, proving that he too is is here to fight for a potential spot on the podium this weekend.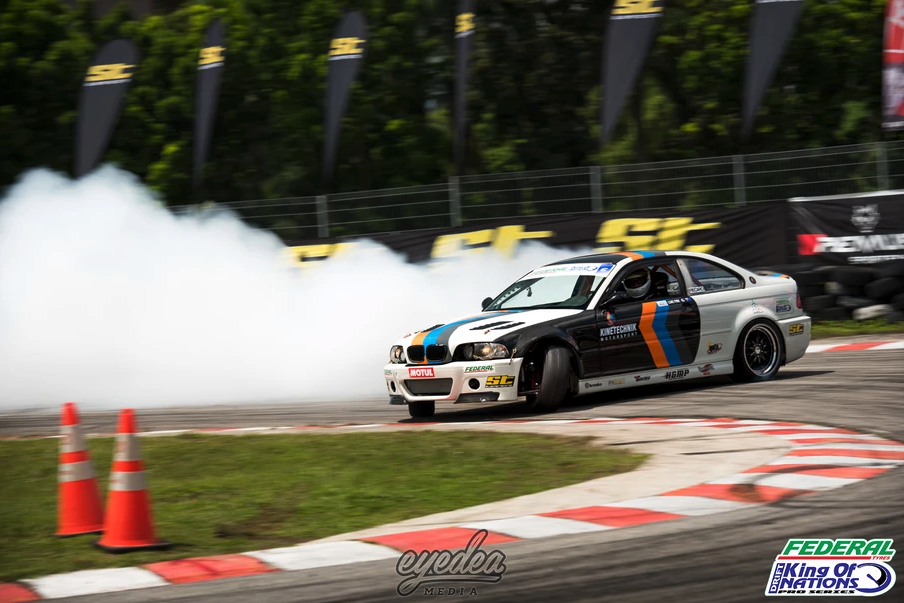 Luke Fink had spent the morning stunning the crowd with backwards entries despite losing second gear and having to navigate the tight hairpin in 3rd, but he wouldn't let this stop him clinching third place.
Amirul Nordin took fourth place with Tan Tat Wei taking fifth as Kuwaiti driver Nasser Al Mutairi fought for his spot in the overall King of Asia rankings as he also pushed for the top spot for €3,000 of Federal Tyres prize money with sixth place.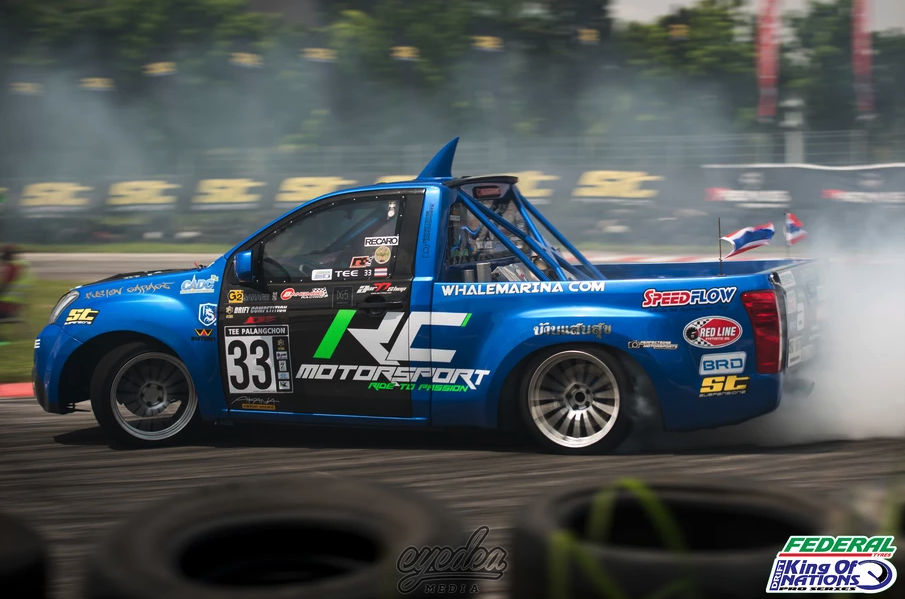 It would be an unfortunate exit for Toni 'Half Breeds' Arakaki after missing out on a spot in qualifying, while drivers such as Brazil's Andre Silva and Thailand's Tee Injet in his insane pick-up were plagued with car troubles which left them unable to reach the start line to fight for their spots.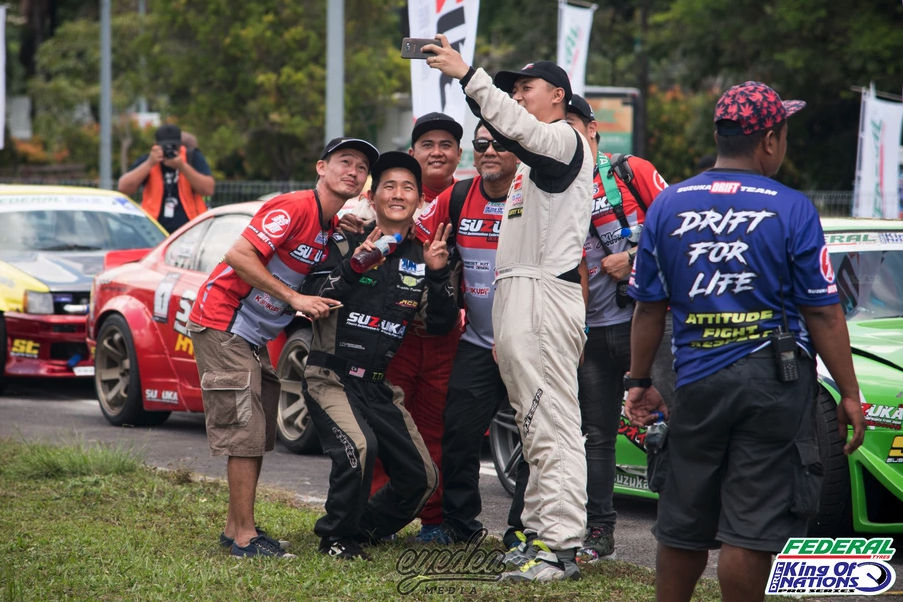 With still no signs of rain but with intense sun and humidity, it was time for the cars and drivers to face the ultimate test after a morning of practice as they went head-to-head in the Top 32 battles.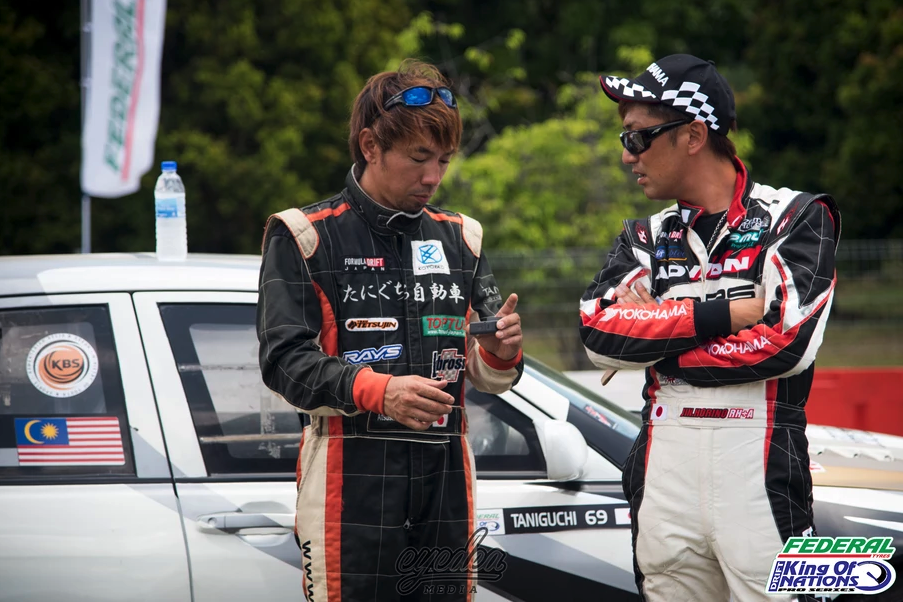 Early casualties in the Top 32 battles would include Keiichi Kadekaru who would fall victim to Thailand's M PTT after a close battle and Atsushi Taniguchi, as his weekend was ended early with car issues.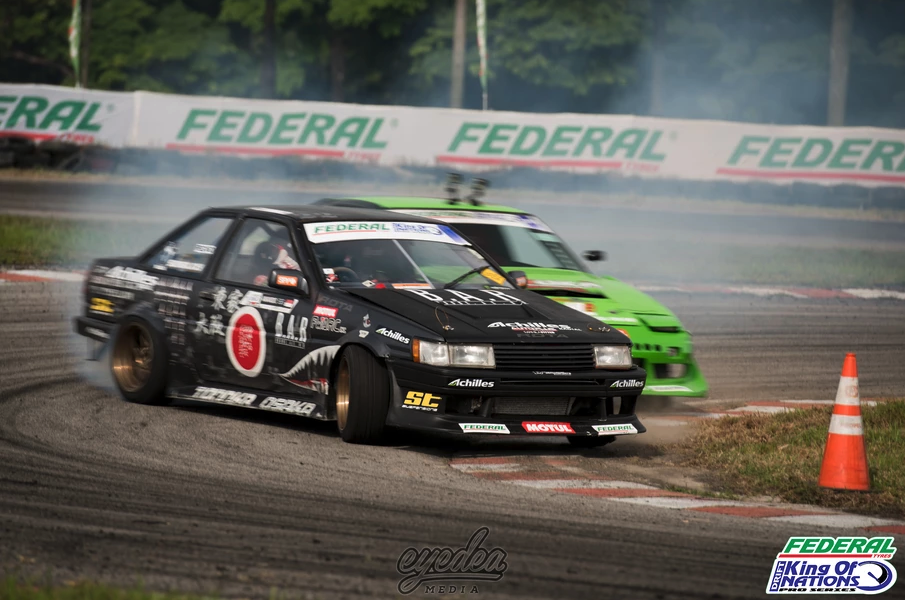 An intense battle between Tan Tat Wei and Amandio saw the drivers go for a one-more-time before Tan Tat Wei eventually managed to progress. Hirohide Tanaka would knock out Nasser Al Mutairi to continue his chase for the top spot of the King of Asia series.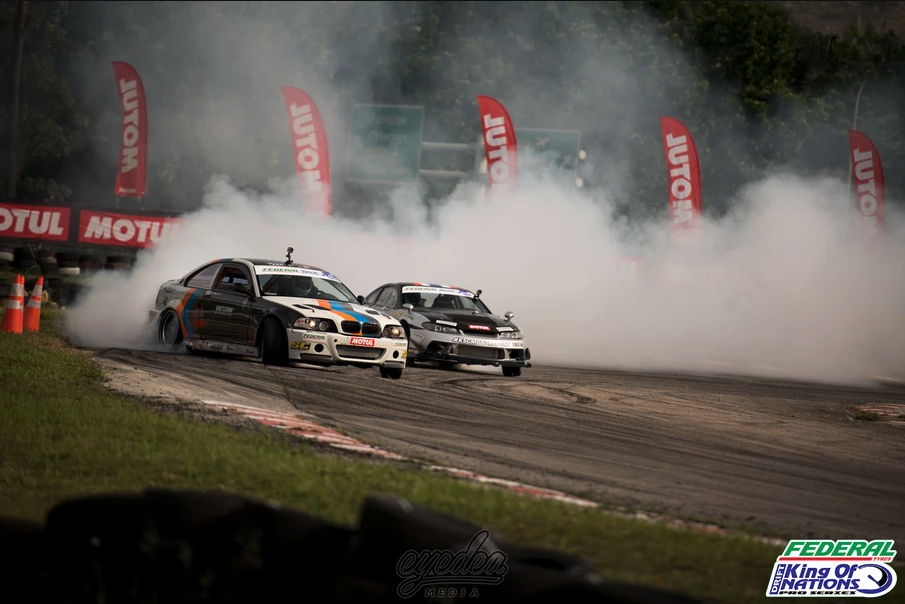 After fighting his best throughout the weekend, Australian Luke Fink's car finally gave up as he was forced to retire in the Top 8.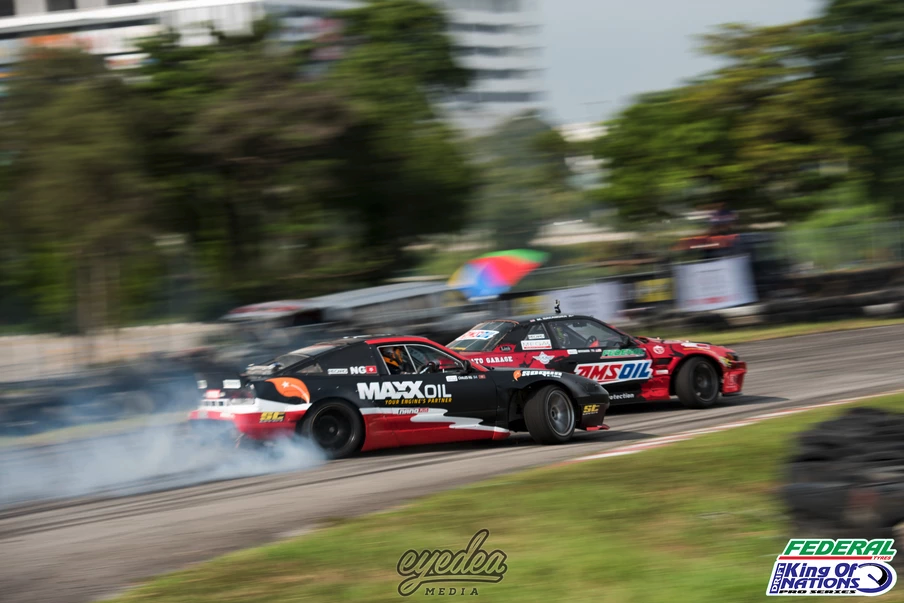 Charles NG would fall victim to a power steering belt failure which unfortunately forced his car into the safety barriers, undoubtedly a disappointing ending to the driver who had set his sights on a valid shot at the podium.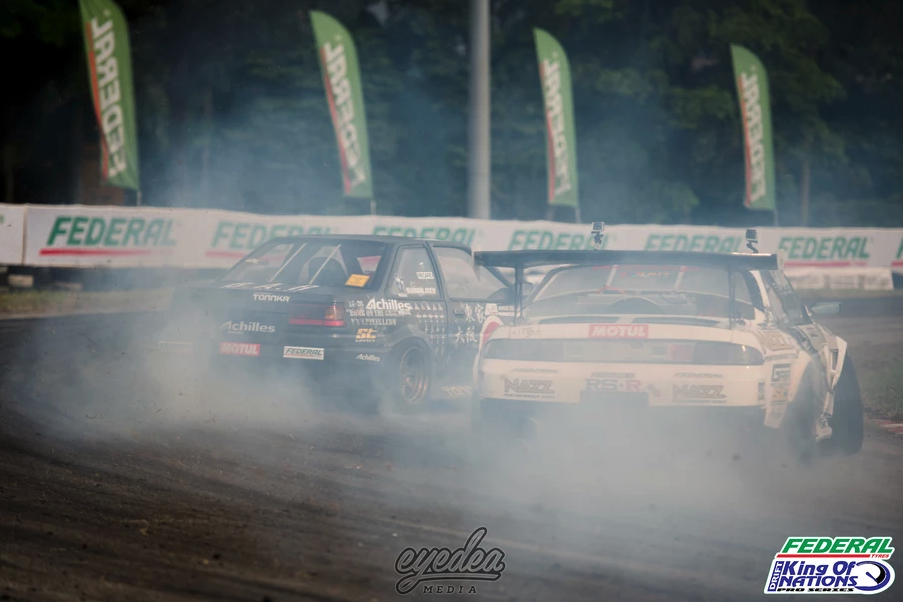 The Top 8 would also mark the end of Amandio's run as M PTT once again progressed, becoming the only remaining Thai driver in the Top 4.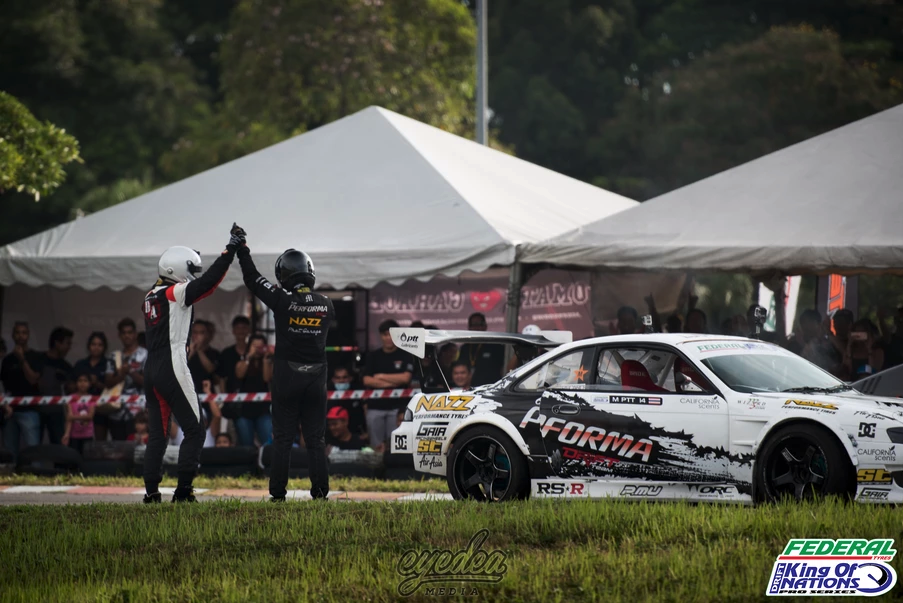 M PTT's run would eventually come to an end after an incredible battle as he met his match with top qualifier Tengku Djan, who had forced his way through to secure a spot in the final.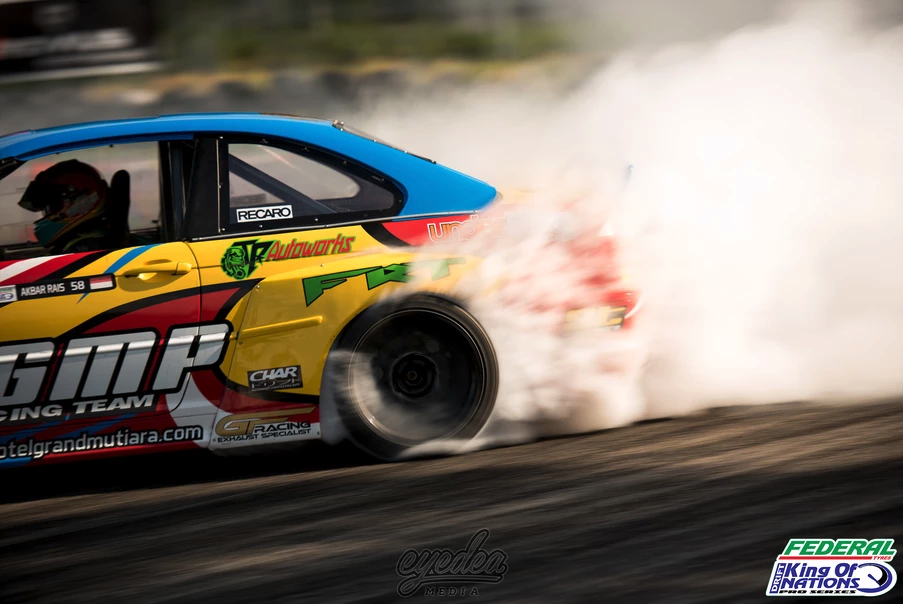 It would be Akbar Rais who would face the 'Price of Drift' in the final after defeating Hirohide Tanaka in the Top 4, will Tanaka take enough points to secure the top spot in the King of Asia series with a borrowed car?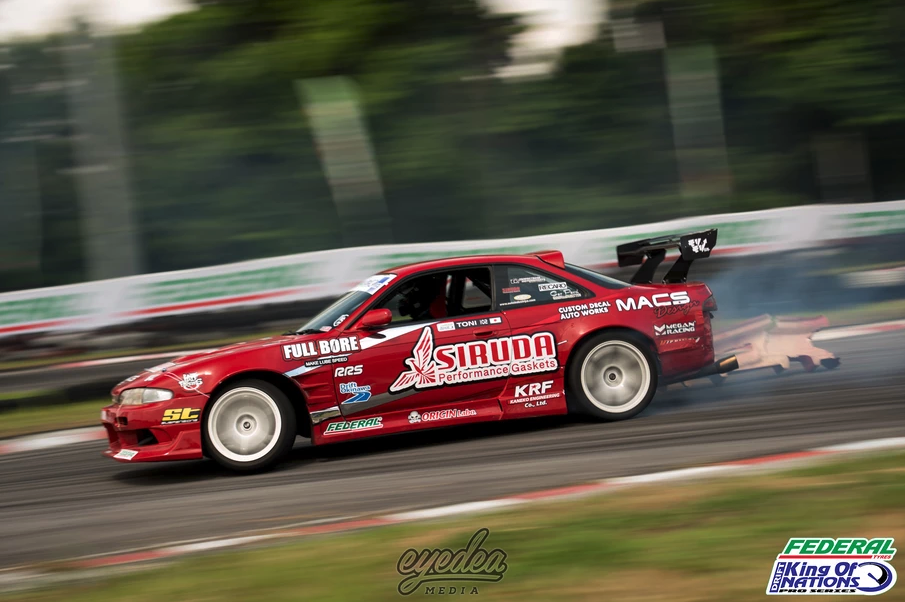 Before we found out, he would face M PTT in the small final. After a level score in the opening run, Tanaka would land his second back-to-back podium spot as he earned vital points in both Championships!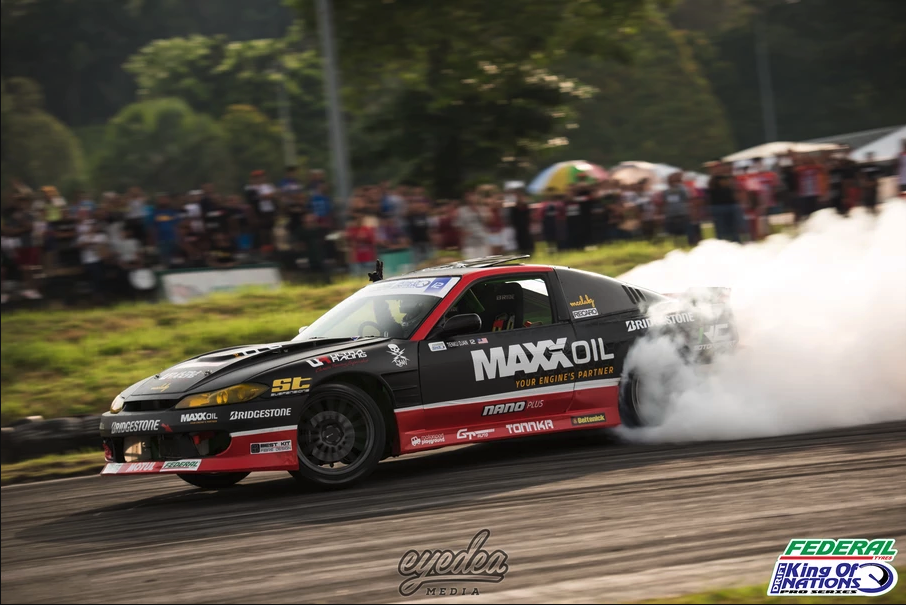 It was all to play for as Tengku Djan headed to the startline against Akbar Rais. Tengku made no mistake in the opening run as he took a 7-3 advantage. As the drivers once again went head-to-head on the startline, Akbar Rais knew he has to push the car to the limit to stop the in-form opponent. As he did so, he would push so hard on the hairpin that the steering arm broke on his car, leaving him unable to reach the finish line, leaving Tengku Djan to finish with a celebration in front of his home crowd!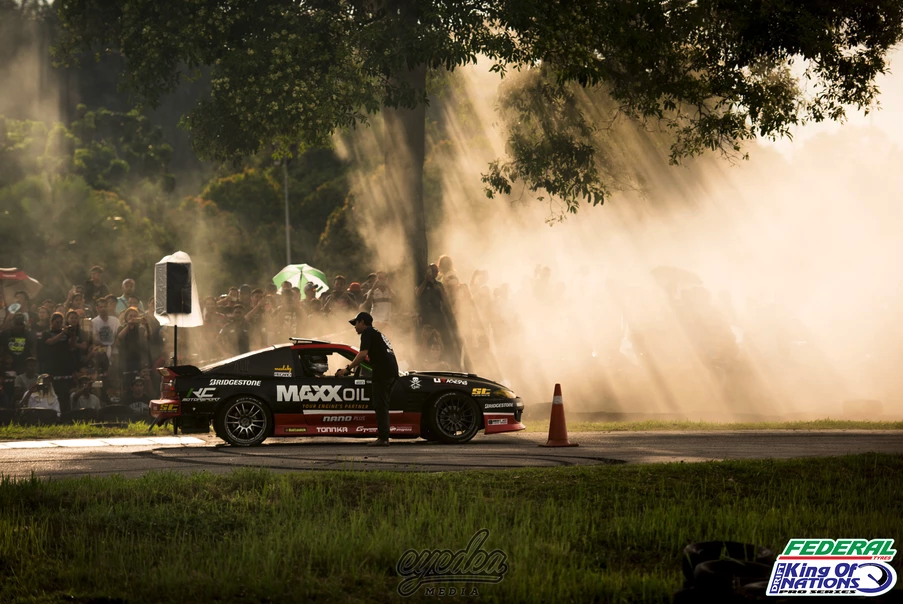 It was an incredible ending to a flawless victory in Tengku Djan's stunning return to competitive drifting as he landed both the top spot in qualifying and battles - where better to do this than on home soil?!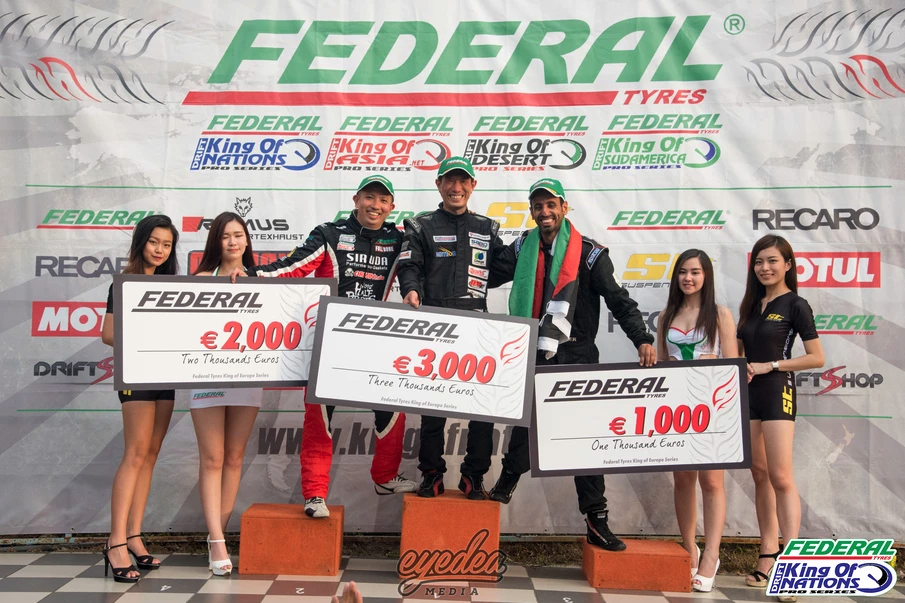 As the results came in, it would be Hirohide Tanaka who took the top spot on the Federal Tyres prize money podium, securing €3,000. Toni 'Half Breeds' Arakaki took €2,000 with Nasser Al Mutairi taking €1,000.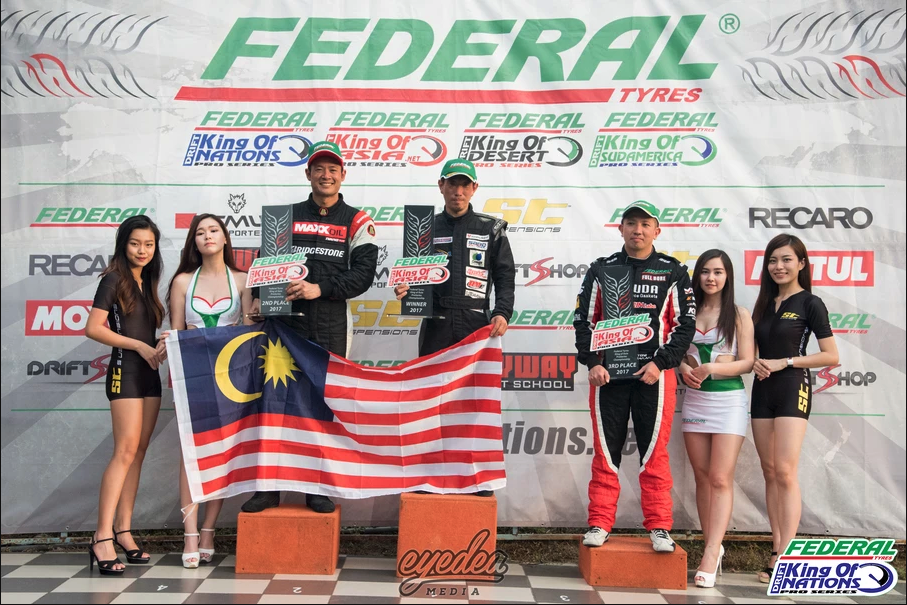 For the overall rankings in the Federal Tyres King of Asia series, Hirohide Tanaka takes the top spot. Tengku Djan's incredible weekend paid off as double points ensured that he secured second place. Naoki Nakamura took the third spot with the trophy collected on his behalf.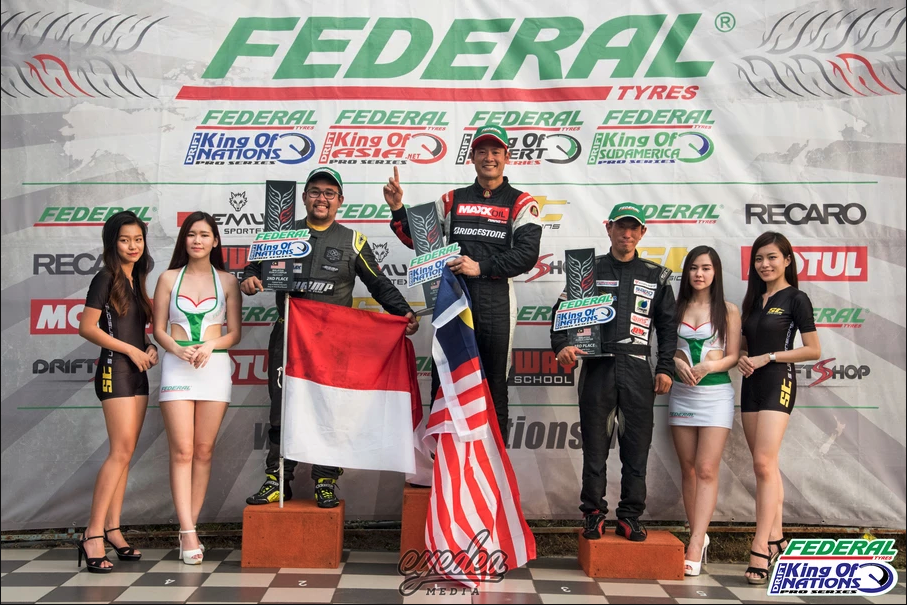 The final standings for this round saw Tengku Djan represent Malaysia on the top spot, with Indonesian Akhbar Rais taking second and Hirohide Tanaka in third!