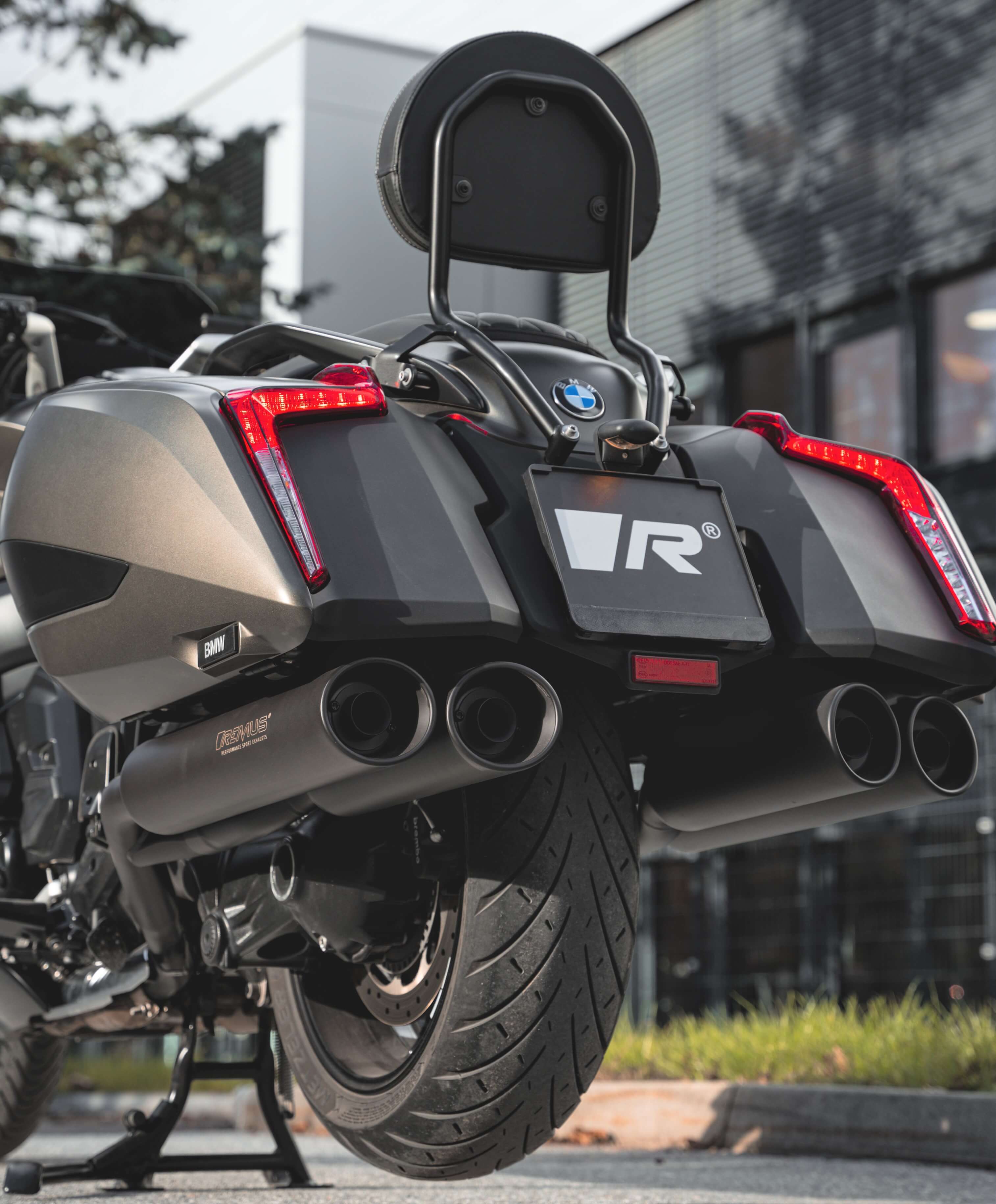 Bike and engine specification:


for BMW K 1600 Bagger, 6-cylinder 118kW MY 2022 => BUY NOW!
for BMW K 1600 Grand America, 6-cylinder 118kW MY 2022 => BUY NOW!
OUR REMUS QUAD (L/R) SYSTEM FOR THE BMW K 1600
Full Set consisting of Left & Right Exhaust
Available in stainless steel black
Powerful REMUS sound
Performance and torque increase
(up to +5.3 HP +5.7 Nm)
Light weight construction (-0.6kg)
Made in Austria
With EC approval or RACING version
The initial inspiration behind the REMUS Quad Exhaust DESIGN was to create a similar look as the REMUS sport exhaust for the BMW F80 M3/ F82 M4. A horizontal optic that is defined by elegance yet aggressive with a deep SOUND for which REMUS is renowned for since 1990.
Throughout the R&D process of designing the custom exhaust, REMUS reached out to the BMW community to listen to customer feedback & requests. Therefore, after many miles in different test environments carried out on US soil, the final specification of the custom exhaust is also the result and accomplishment of BMW K1600 Bagger rider input around the globe.

The REMUS custom exhaust is proudly hand made in Austria and is manufactured using quality T304 grade stainless steel. The exhaust is finished off with a high-temperature flat black coating which provides a clear contrast to the stock chrome pipes. REMUS's main goal is to offer a custom exhaust with a bold & aggressive look while simultaneously maintaining slick & aerodynamic lines that enhance the overall DESIGN of the motorcycle. The staggered, angled cut & rolled exhaust tip DESIGN add to the clean bagger lines without being obtrusive.

As far as SOUND goes, the REMUS custom exhaust delivers once again. It provides the BMW K1600 the SOUND it deserves: a deep & throaty growl that turns into a roar during hard acceleration. Furthermore, REMUS includes a set of 4 "touring sound baffles" which can be used for those engaging in longer rides or when a pillion rider is on-board. Building upon the success story of the REMUS sport exhaust for the BMW K1600GT & GTL range, the REMUS SOUND is never generic, instead, it is individually engineered to the cravings of motorcycle riders around the globe.

Please check your local transport regulations before purchasing this exhaust system.