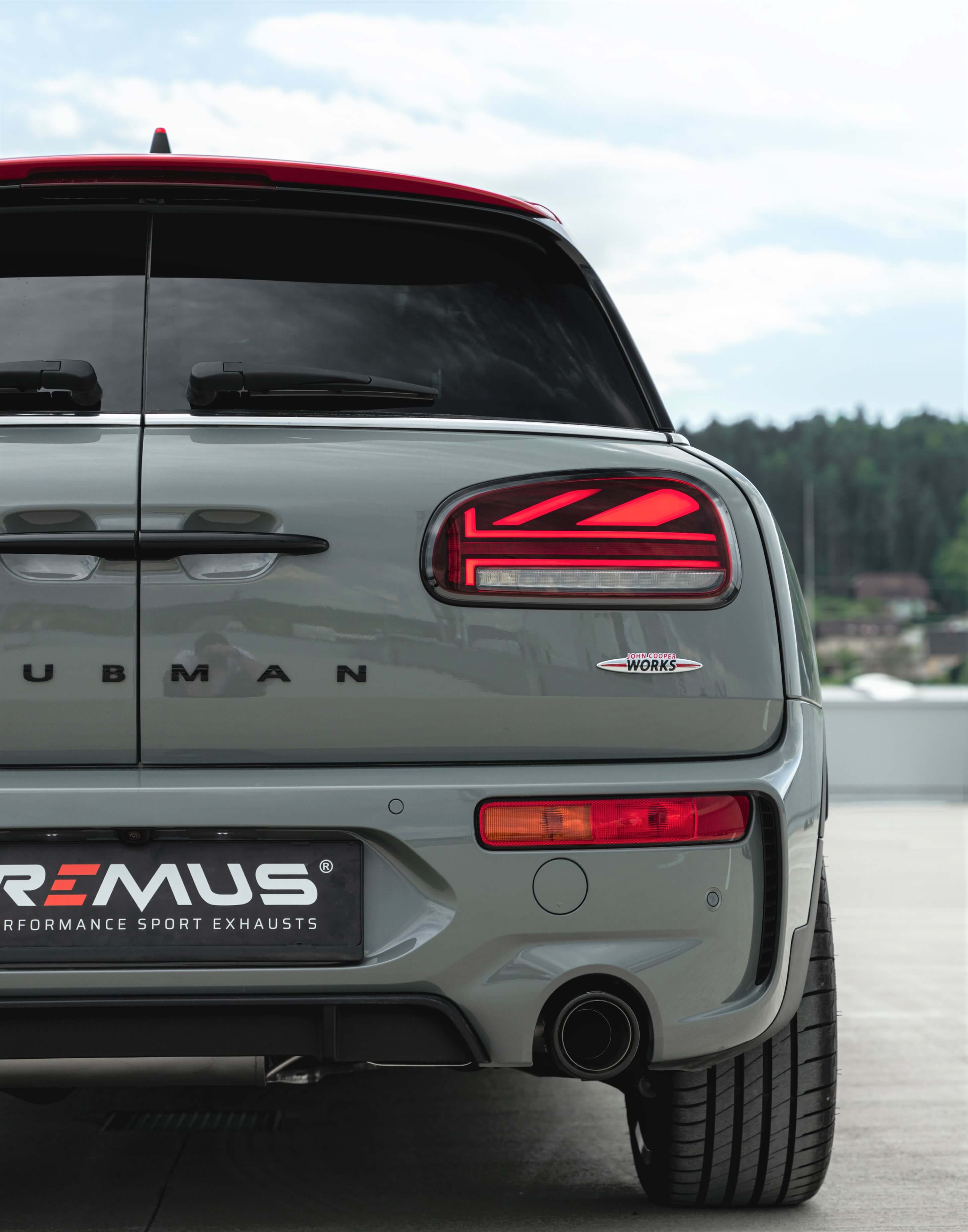 CAR and ENGINE specification:


MINI JCW Clubman F54 LCI, MY 11/2020 => BUY NOW!
2.0l, 225kW (B48A20E, with GPF)
MINI JCW Countryman F60, MY 11/2020 => BUY NOW!
2.0l, 225kW (B48A20E, with GPF)
MINI Clubman F54 & Countryman F60 Sport Exhaust
Best quality stainless steel
Powerful REMUS Exhaust sound
Performance and torque increase
(up to +10.9 HP +21.7 Nm)
Light weight construction (up to -12.9kg)
Made in Austria
With EC approval or RACING version
6 available Tailpipe Sets
Unleash the True Performance of Your Mini F54/F60: Elevate Your Driving Experience with Our Premium Sport Exhaust!
Revitalize your Mini and take your driving pleasure to new heights with our meticulously engineered sport exhaust system. Crafted exclusively for the Mini F54 & F60, our high-performance exhaust not only amplifies your vehicle's power but also delivers an exhilarating and immersive driving experience.
Unmatched Performance: Our sport exhaust system is designed with utmost precision to maximize the performance capabilities of your Mini. Feel the surge of power as our exhaust optimizes exhaust gas flow, providing a substantial increase in horsepower and torque. From swift acceleration to confident maneuvers, our exhaust ensures you have the power and agility to conquer any road.
Exhilarating REMUS Sound: Immerse yourself in a symphony of performance with the captivating sound produced by our sport exhaust. The harmonious blend of deep tones and spirited growls will awaken your senses and ignite your passion for driving. Experience every rev, every gear shift, and every corner with a soundtrack that perfectly complements your Mini's sporty character. You can check out all Mini Soundfiles on the product page in our webshop!
Uncompromising Craftsmanship: Our sport exhaust system is crafted using only premium materials and advanced engineering techniques. With attention to detail, each component is designed to seamlessly integrate into your Mini, ensuring a flawless fit and enhanced durability. Elevate your vehicle's aesthetic appeal with our sleek design and impeccable finish, embodying the perfect fusion of style and functionality.
Simple Installation: We prioritize your convenience, which is why our sport exhaust system is designed for easy installation. With comprehensive instructions and expert support, you can effortlessly upgrade your Mini F54/F60 and hit the road in no time. Spend less time in the garage and more time experiencing the sheer pleasure of driving.
Unleash the untapped potential of your Mini with our premium sport exhaust system. Discover the perfect harmony of power, sound, and craftsmanship, elevating your driving experience to unprecedented levels. Stand out from the crowd, turn heads, and make a lasting impression with our top-of-the-line sport exhaust. Upgrade your Mini Clubman or Countryman today and redefine what it means to truly enjoy the road.
Order your Mini Exhaust System here!
DISCLAIMER
The products of REMUS Innovation GmbH ("REMUS") are distributed worldwide. REMUS and its affiliates shall not assume any obligations, warranties, guarantees or other liabilities for the fact that the products manufactured by REMUS comply with the applicable law of the respective country of destination or may be used without (official) approval. This applies equally to products approved in Austria, which are subsequently manipulated, modified, edited or otherwise interfered or changed by the respective buyer, so that it no longer has its original condition.

The buyer shall be solely responsible for obtaining all whatsoever approvals and permissions required by the respective national law for suchlike products and shall be solely responsible for ensuring that the products manufactured by REMUS comply with the approvals required for the respective usage in the country of destination.

Intended use in Austria:
Products manufactured by REMUS without (EC-)approval are only eligible for usage at motor sport events or tests within the meaning of KFG 1967. They are not intended for vehicles used on public roads. The buyer is solely responsible for obtaining the permissions where applicable required by the applicable law for the intended purposes/usage. In no event a whatsoever claim shall be constituted by the buyer against REMUS and its affiliates arising from or in connection with required approvals for public road usage.