REMUS ESC - Electronic Sound Control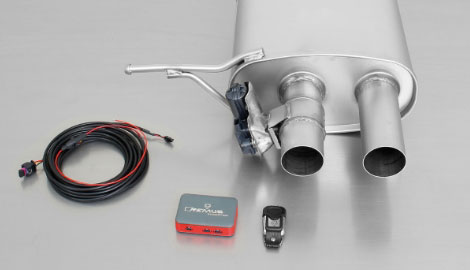 The brand new Electronic Sound Control from REMUS enables drivers to adjust the sound of their sportexhaust systems via valve(s) which are operated per remote control.
The valve(s), are positioned pending the configuration of the exhaust, at either the inlet or at outlet side and are operated by OEM quality electronic actuators. The actuators are mounted on precise laser cut brackets. There are 4 pre-programmed valve positions offering the possibility to adjust the sound between "fully closed" and "fully opened" along with 10% and 50% open positions.
When the valve(s) are fully opened, not only the deep REMUS RACING sound is released, but also a gain in torque and power is noticeable due to the remarkable reduction of backpressure. As usual, all REMUS sportexhaust systems, including the valve mechanisms and brackets are made using only the finest stainless steel.
Features
Electronically controlled valve system
4 pre-set valve positions
Individual adjustable sound
Operated via remote control
Valve mechanisms & brackets made from stainless steel
Perfect fitment and easy installation